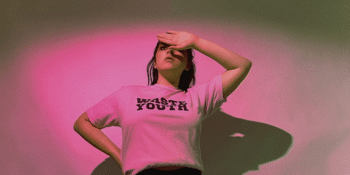 Footstomp Music & Collective Artists presents
Tia Gostelow - Thick Skin Album Tour
with special guests
Black Bear Lodge (Fortitude Valley, QLD)
Friday, 16 November 2018 7:00 PM
Erupting into the spotlight at 16, Tia Gostelow can not be stopped. After being announced as support for Ball Park Music & San Cisco at Brisbane's Riverstage, handpicked to tour with The Rubens and feature on their latest single "Never Ever", she dropped into the Triple J studio's last Friday to cover Empire Of The Sun's "We Are The People" on Like A Version.
To cap off her already colossal 2018, she's announced the release of her debut album Thick Skin on September 21st. Recorded with Konstantin Kersting at Airlock studios (The Jungle Giants/Mallrat), the album will be released on her on her own label Lovely Records. To add to the already massive news, she's announcing 3 album release parties in Sydney, Melbourne & Brisbane through October & November!
Tia has been working on a fresh new live set up to the tour as she explains, "It's going to be so different to what people who might've seen us live before are used to and I have been waiting so long to play these songs live! Super keen to head back to Sydney and Melbourne and play in my new hometown Brisbane later this year!"
"This album has been in the works for about 2 years now and I can't explain how excited I am for it to be out for everyone to hear. The songs on this record talk about my experiences over the past couple of years coming into and out of adolescence and I think it'll resonate with so many people!" - Tia Gostelow

Among only her recent highlights include launching her own independent record label "Lovely Records", signing with Anti Fragile records outside Australia and New Zealand, landed a world wide publishing deal with NativeTounge and had her last five singles added to rotation on Triple J and been nominated for a handful of Queensland Music Awards.