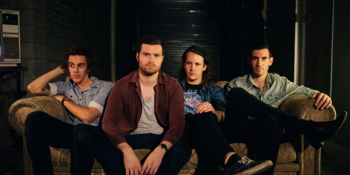 Avocado Events present
Common Deers & Raised Bones Launch Party
with Terra Pines, The Bear Hunt & Blue Chorus
Black Bear Lodge (Fortitude Valley, QLD)
Friday, 12 October 2018 7:00 pm
Exhibiting a strange blend of alternative rock, Common Deers are a well formed, well-hydrated, four-piece rock ensemble from Brisbane with a passion for emotion in song, and uphold a strong commitment to creating genuine, authentic and unique music. The band will be releasing their single 'Worth' at Black Bear Lodge on the 12th October 2018 and have been working tirelessly on their newest single recorded at Bedlam Studios by their very own, Simon Nelson and mixed by Broc Weston from Bugs. It is a song with dynamics, high energy, a catchy hook and engaging musicianship, a taste of what is to come from the bands 2nd EP, which is currently in underway.
Joining them, Terra Pines a grungegaze/sludgepop band hailing from Brisbane, bring together a multitude of influences combining elements of post-Punk, shoegaze, grunge and sludge. Brought together in late 2015 by a mutual love of all things noisy the band have been creating music that defies categorisation ever since.
The Bear Hunt, will also grace the stage welding otherworldly guitar lines to snotty, sludge-punk rhythms. The Bear Hunt's loose, textured sound stretches from jagged landscapes of pure distortion to urgent, soaring choruses; replete with poppy grandeur. In the tumbling melodies and spat-out refrains of 'Your Halo Is Loose', the Brisbane-based, four-piece embody the adventurous chaos of alternative rock's earliest explorations – where deafening noise rubs shoulders with aching pop and the wild, risky allegiance is ready to fall apart at any second.
Opening the night, Blue Chorus. Formed in early 2017, Blue Chorus are a band from Brisbane. Their sound is a union of 80's new wave sounds mashed with 90's alt-rock. Classic sounds that are easy to get into, and hard to get out of your head.
Friday the 12th October -Black Bear Lodge will be the hub of music excellence, celebrating the launch of Common Deers- 'Worth', also the release party for new and upcoming Brisbane based designer, Rhys Brown, with the parallel launch of his company Raised Bones Clothing. In a great atmosphere of stellar artists joining borders of original music and original artwork. What's not to party about!